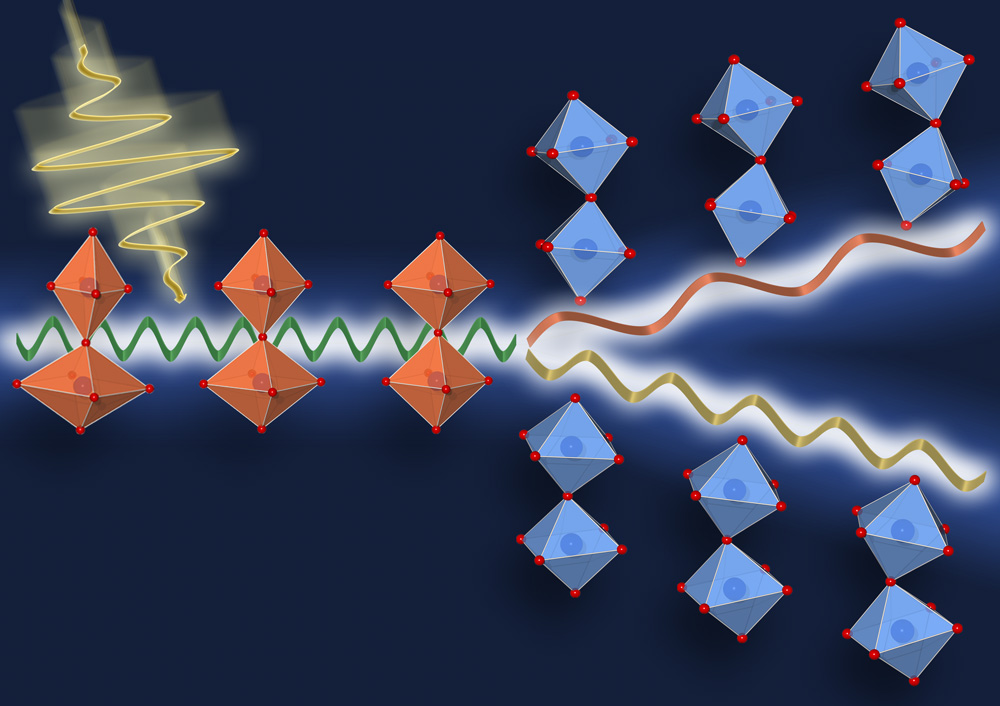 Structural control, for example through material synthesis, pressure application or strain engineering, is an established technique to manipulate the electronic and magnetic phases of quantum materials statically. The application of intense light pulses, on the other hand, allows to distort the crystal structure of a solid in a dynamical fashion on time scales down to the femtosecond regime. Nonlinear phononics makes use of tailored light fields at mid-infrared and THz frequencies to resonantly drive infrared-active optical phonons to large amplitudes. In this case, anharmonicities of the crystal lattice induce symmetry breaking atomic structures away from equilibrium with designed electronic or magnetic functionality. We successfully apply nonlinear phononics to control ferroelectric polarization, magnetic order or high-temperature superconductivity.
Reviews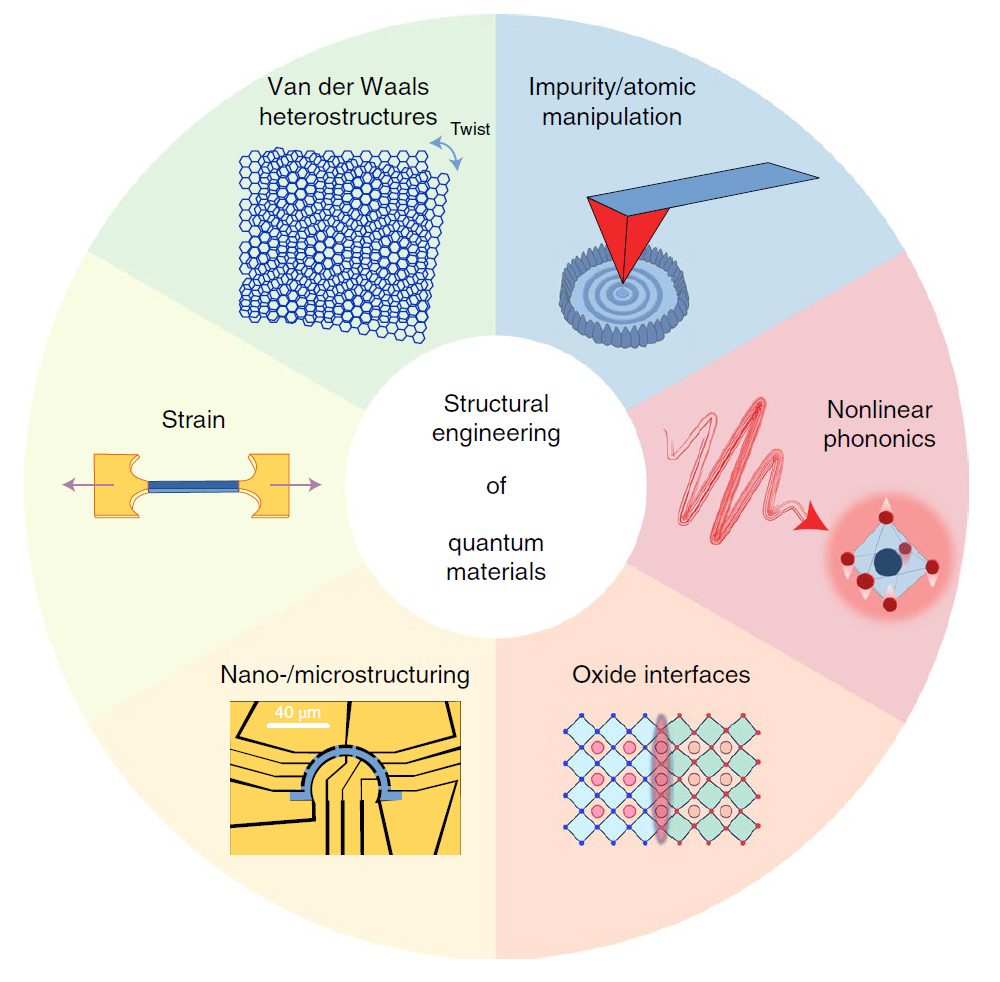 Abstract
The crystal structure of a solid largely dictates its electronic, optical and mechanical properties. Indeed, much of the exploration of quantum materials in recent years including the discovery of new phases and phenomena in correlated, topological and two-dimensional materials—has been based on the ability to rationally control crystal structures through materials synthesis, strain engineering or heterostructuring of van der Waals bonded materials. These static approaches, while enormously powerful, are limited by thermodynamic and elastic constraints. An emerging avenue of study has focused on extending such structural control to the dynamical regime by using resonant laser pulses to drive vibrational modes in a crystal. This paradigm of 'nonlinear phononics' provides a basis for rationally designing the structure and symmetry of crystals with light, allowing for the manipulation of functional properties at high speed and, in many instances, beyond what may be possible in equilibrium. Here we provide an overview of the developments in this field, discussing the theory, applications and future prospects of optical crystal structure engineering.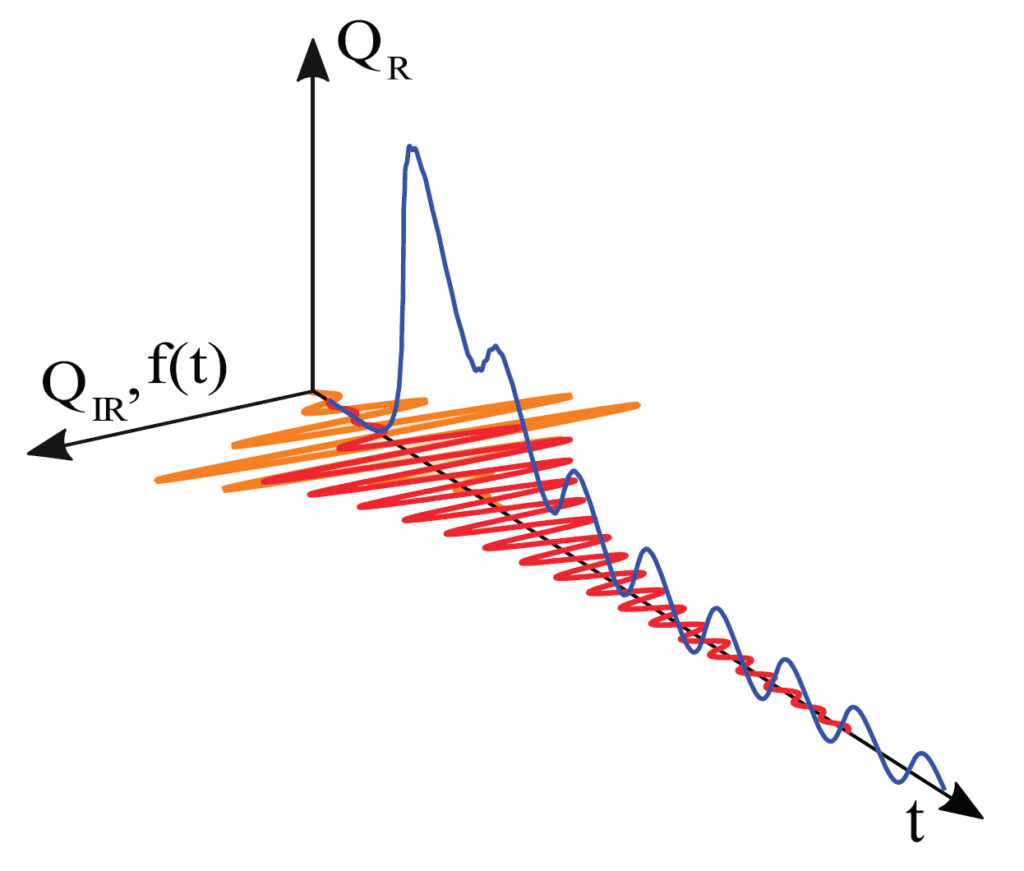 Abstract
We review some recent advances in the use of optical fields at terahertz frequencies to drive the lattice of complex materials. We will focus on the control of low energy collective properties of solids, which emerge on average when a high frequency vibration is driven and a new crystal structure induced. We first discuss the fundamentals of these lattice rearrangements, based on how anharmonic mode coupling transforms an oscillatory motion into a quasi-static deformation of the crystal structure. We then discuss experiments, in which selectively changing a bond angle turns an insulator into a metal, accompanied by changes in charge, orbital and magnetic order. We then address the case of light induced non-equilibrium superconductivity, a mysterious phenomenon observed in some cuprates and molecular materials when certain lattice vibrations are driven. Finally, we show that the dynamics of electronic and magnetic phase transitions in complex-oxide heterostructures follow distinctly new physical pathways in case of the resonant excitation of a substrate vibrational mode.
Key publications
More publications
Amplification of Superconducting Fluctuations in Driven YBa2Cu3O6+x
A. von Hoegen, M. Fechner, M. Först, N. Taherian, E. Rowe, A. Ribak, J. Porras, B. Keimer, M. Michael, E. Demler, and A. Cavalleri
Physical Review X, 12, 031008 (2022)
Parametric amplification of optical phonons
A. Cartella, T. F. Nova, M. Fechner, R. Merlin, A. Cavalleri
PNAS 115, 12148-12151 (2018)
Nonlinear Electron-Phonon Coupling in Doped Manganites
V. Esposito, M. Fechner, R. Mankowsky, H. Lemke, M. Chollet, J. M. Glownia, M. Nakamura, M. Kawasaki, Y. Tokura, U. Staub, P. Beaud, and M. Först
Physical Review Letters, 118, 247601 (2017)
Dynamical stability limit for the charge density wave in K0.3MoO3
R. Mankowsky, B. Liu, S. Rajasekaran, H. Liu, D. Mou, X. J. Zhou, R. Merlin, M. Först and A. Cavalleri
Physical Review Letters, 118, 116402 (2017)
Optically-induced lattice deformations, electronic structure changes and enhanced superconductivity in YBa2Cu3O6.48
R. Mankowsky, M. Fechner, M. Först, A. von Hoegen, J. Porras, T. Loew, G.L. Dakovski, M. Seaberg, S. Möller, G. Coslovich, B. Keimer, S.S. Dhesi, and A. Cavalleri
Structural Dynamics, 4, 044007 (2017)
Coherent modulation of the YBa2Cu3O6+x atomic structure by displacive stimulated ionic Raman scattering
R. Mankowsky, M. Först, T. Loew, J. Porras, B. Keimer, and A. Cavalleri
Physical Review B 91, 094308 (2015)
Mode-Selective Control of the Crystal Lattice
M. Först, R. Mankowsky, A. Cavalleri
Accounts of Chemical Research 48, 380 (2015)
Theory of nonlinear phononics for coherent light control of solids
A. Subedi, A. Cavalleri, A. Georges
Physical Review B, 89, 220301(R) (2014)
Displacive lattice excitation through nonlinear phononics viewed by femtosecond X-ray diffraction
M. Först, R. Mankowsky, H. Bromberger, D.M. Fritz, H. Lemke, D. Zhu, M. Chollet, Y. Tomioka, Y. Tokura, R. Merlin, J.P. Hill, S.L. Johnson, A. Cavalleri
Solid State Communications, 169, 24–27 (2013)
Driving magnetic order in a manganite by ultrafast lattice excitation
M. Först, R. I. Tobey, S. Wall, H. Bromberger, V. Khanna, A. L. Cavalieri, Y.-D. Chuang, W. S. Lee, R. Moore, W. F. Schlotter, J. J. Turner, O. Krupin, M. Trigo, H. Zheng, J. F. Mitchell, S. S. Dhesi, J. P. Hill, and A. Cavalleri
Physical Review B 84, 241104(R) (2011)
Ultrafast Electronic Phase Transition in La1/2Sr3/2MnO4 by Coherent Vibrational Excitation: Evidence for Nonthermal Melting of Orbital Order
R.I. Tobey, R. Prabakharan, A.T.J. Boothroyd and A. Cavalleri
Physical Review Letters, 101, 197404 (2008)
Control of the electronic phase of a manganite by mode-selective vibrational excitation
M. Rini, R. Tobey, N. Dean, J. Itatani, Y. Tomioka, Y. Tokura, R. W. Schoenlein & A. Cavalleri
Nature, 449, 72-74 (2007)